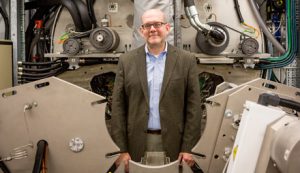 Binghamton University's new Center for Flexible Hybrid Medical Device Manufacturing has been designated a Center for Advanced Technology and will receive nearly $8.8 million in funding during the next 10 years, Empire State Development's Division of Science, Technology and Innovation (NYSTAR) announced Thursday.
The new center, to be known as FlexMed, will assist with job creation through the development and commercialization of technologies in New York state. FlexMed will be a part of the University's Center for Advanced Microelectronics Manufacturing (CAMM).
The FlexMed CAT will allow researchers at Binghamton University and our industry partners to build on more than a decade of experience in designing and manufacturing flexible electronics, said Mark D. Poliks, empire innovation professor of engineering and director of the new center. Poliks also serves as director of the CAMM, the official New York node of the national NextFlex manufacturing institute.
"We have unique facilities and expertise in partnering with industry that will enable us to make contributions to New York companies' R&D right away," he said. "This investment, combined with our ongoing work with NextFlex, establishes us as a major resource for large and small firms that are interested in flexible, wearable medical and industrial devices."
Poliks, author of more than 100 technical papers, holds 47 U.S. patents. He envisions the center working with startup companies around the state to develop prototype devices in a cost-efficient and timely fashion so that they can be brought to market as quickly as possible. Initial projects may include wearable biosensors embedded in textiles and roll-to-roll manufacturing of electronic glass and ceramic surfaces.
The center, an interdisciplinary effort with collaborators at SUNY Polytechnic Institute, will offer training, workshops and academic classes. "As an educator, I'm also excited about the workforce development aspect of this center," Poliks said. "Students at Binghamton and at SUNY Poly will have opportunities to learn state-of-the-art techniques and will be prepared for careers in this vital and growing economic sector when they graduate."
FlexMed will serve as the nucleus of a manufacturing industry cluster in the quickly emerging field of medical and pharmaceutical device manufacturing, said Howard Zemsky, Empire State Development president, CEO and commissioner. "It will enable industry partners to scale up flexible-hybrid electronics technologies and present them to the marketplace more quickly, while harnessing various academic capabilities for product development and commercialization, workforce development and job creation efforts for New York state," he said.
Flexible medical devices could include lightweight sensors for use in monitoring hospital patients, athletes and members of the armed services.
Harvey Stenger, president of Binghamton University, said FlexMed will build upon the campus' strengths in engineering and the health sciences. "Our laboratories in Endicott and at the Innovative Technologies Complex are truly state of the art," he said. "FlexMed will contribute to the Southern Tier's rich culture of innovation and entrepreneurship."
Binghamton, which recently earned a "very high research" classification from the Carnegie Classification of Institutions of Higher Education, is cultivating faculty teams to pursue large-scale center grants like this one, said Bahgat Sammakia, vice president for research at Binghamton University. He noted that the campus is also home to another CAT, the Integrated Electronics Engineering Center.
"Mark Poliks is an exceptional researcher, and his decades of experience in working with teams of faculty members and industry partners will be a tremendous asset to FlexMed," Sammakia said. "This center will work on technology that has the potential to benefit society and improve healthcare in important ways."