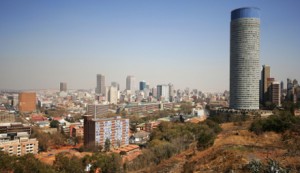 Martin J. Murray believes cities in Africa and Asia are creating a new template for urban development. Though some may see them as backward, these are the cities of the future, he argues, with an entrepreneurial spirit and ever-shrinking public spaces.
Murray, a professor of sociology at Binghamton University, is the author of a new book, Taming the Disorderly City: The Spatial Landscape of Johannesburg after Apartheid, published by Cornell University Press. The volume will be part of a trilogy of books about Johannesburg, a project that Murray conceived in the mid-1990s after the end of South Africa's formal system of racial segregation.
"Even though everything was changing, with everyone in the country having the right to vote and one of the most progressive constitutions in the world, at the same time it was visible that little had changed," Murray recalled. "The enormous differentiation between rich and poor was still there. Those who lived well continued their lives as if nothing had changed."
He set out to explore questions of urban space and to understand why and how the affluent were able to insulate themselves from having to make any real sacrifice.
Johannesburg is the dominant city in South Africa, and Murray felt it was the best place to measure and see how much had changed after Apartheid. Forty percent of the population is unemployed, he notes, but it's also a city of incredible wealth, with luxurious hotels, opulent shopping malls and massive new developments of gated communities.
Murray said he identified three new spatial forms in Johannesburg:
• Office citadels, huge cities within cities that companies have created for their workers, complete with amenities ranging from salons to doctors' offices.
• Large enclosed shopping malls, offering movie theaters and restaurants as well as shops.
• Gated communities, ranging from huge private homes arranged around golf courses to clusters of townhouses.
All of these spaces are made possible by private security, Murray said. There are 10 times as many private security officers as publically employed police in Johannesburg. And residents are constantly under surveillance; the city has the second-largest number of closed-circuit TVs in the world, behind London.
The flip side of this tremendous wealth is the city's "outcast ghettos," where some 3.5 million people live in informal settlements that lack basic services such as water and electricity.
Murray thinks of the three books in his series as Johannesburg red, Johannesburg blue and Johannesburg yellow.
"The colors metaphor is a reference to my thinking that all cities are actually more than a single place," Murray explained. "They are multiple colliding places that require different views to unpack their complexity and heterogeneity."
Taming the Disorderly City is Johannesburg blue, with a focus on the struggle between urban poor, urban planning and real estate capitalism.
Johannesburg red, to be titled City of Extremes, focuses on the built environment, including the architecture and real estate of the city. One major theme in this volume will be South Africa's interest in Western styles, evoking places in Europe and California.
Johannesburg yellow – the final book – will address the city in the popular imagination. Its working title, Panic City, seems apt when Murray talks about the ways in which Johannesburg's elite have made their homes and even their cars into fortresses.
Just one example? A device like a flamethrower intended for drivers who fear being carjacked.
For better or worse, Murray sees cities like Johannesburg as the model for the future. A third to half of downtown is under the control of so-called business-improvement districts, essentially privatizing public space and forcing out the poor.
"Americans have a tendency to look at cities in Africa or Asia as lagging behind or lacking certain features," Murray said. "I think it's the opposite. The template for the future is in Africa or Asia: an entrepreneurial or private city that has leapt beyond the U.S."