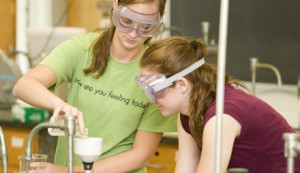 Binghamton University will offer two summer science programs designed to excite students and teachers about science, math and engineering.
The Go Green Institute will bring together about 50 of the Southern Tier's brightest seventh-graders for an intensive 10-day, hands-on learning experience centered on the theme of a greener living environment.
Go Green takes place from July 7-18, overlapping briefly with the Big Ideas in Science Institute (BISI). BISI, which will run from July 17-25, will focus on professional development for local science teachers for grades five through eight.
The University's Center of Excellence in Small Scale Systems Integration and Packaging (S3IP) received a total of $160,730 from the State Education Department to support the outreach programs.
Through Go Green, students will explore issues of science, math and engineering as they relate to creating a sustainable living environment. They will experiment in the lab and take field trips to the Nature Preserve, BAE Systems and the Broome County Landfill, working with Binghamton University faculty members and graduate students as well as teachers from local school districts.
Go Green, led by Wayne Jones, professor of chemistry, will be offered in partnership with the Broome-Tioga Board of Cooperative Educational Services (BOCES) and the Stephen David Ross University and Community Projects Fund.
"Middle school is often a time when students turn away from science because it's not perceived as 'cool' enough," Jones said. "We want to capture these talented students' interest early and give them an opportunity to see scientists and engineers as real people who engage in exciting projects and solve problems in everyday life."
Go Green is expected to have a faculty-to-student ratio of about 1 to 5. The institute will culminate in a poster session where students can show what they've learned. The roughly 30 teachers who participate in BISI will also get to see what such highly talented students are capable of.
During BISI, faculty instructors from the University and Broome Community College and master teachers from local schools will model research-informed best practices and demonstrate hands-on explorations that can be used by the participants with their own students.
Thomas O'Brien, associate professor in the School of Education at Binghamton and director of the Center for Science, Mathematics and Technology Education, will direct the institute. He noted that there is a consensus in the science and science education communities that school science needs to help students construct an understanding of core scientific theories (or "trees") in the context of a "forest" of overarching "big ideas."
For example, core scientific theories about atoms, energy conservation, plate tectonics, cells and evolution "make sense" in the context of the "big ideas" of scientists who design and test models of systems that exist at different scales and exhibit both constancy and change over time, O'Brien said.
Textbooks and teachers spend a lot of time on "trees," O'Brien said, offering trivia without a broader context. "Science is a story that makes sense," he added. "To enjoy Harry Potter, you don't have to understand every little detail, but if you see the broader idea of good vs. evil you can attach those details to it. This is no different."
BUSI will involve teachers with what O'Brien terms "FUNdaMENTAL" hands-on, minds-on explorations of science that will enrich their understanding and be adaptable for use in their classrooms. The science concepts, inquiry skills and habits of mind developed in this way will be meaningful, memorable and applicable to students' daily lives and future careers. He wants them to grasp the possibilities of teaching with big ideas, the content itself – and the pedagogy behind it all.
BISI will be offered in partnership with Broome-Tioga BOCES, Broome Community College and the Science Teachers Association of New York State. O'Brien expects the institute will help build a mutually beneficial "teachers helping teachers" network that partners scientists from the University and BCC with intermediate-level science teachers.
"To learn you have to hoe your own field," O'Brien said. "The teachers are going to be involved in hands-on experiences."