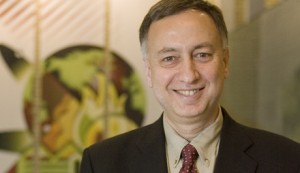 Two Binghamton faculty members were among 20 of New York's most important and innovative scholars and scientists honored by the Research Foundation of SUNY last week.
Bahgat Sammakia, director of the Small Scale Systems Integration and Packaging Center and executive director for economic development; and David G. Davies, associate professor of biology, were recognized during a reception held April 14 at the University at Albany.
Sammakia, a professor of mechanical engineering, was named an Outstanding Researcher/Scholar.
He has distinguished himself in the laboratory and at the helm of several major research initiatives. As director of the Small Scale Systems Integration and Packaging Center, a New York State Center of Excellence, he spearheads an effort that promises to revolutionize the electronics industry. It builds upon the resources of the Integrated Electronics Engineering Center and the Center for Advanced Microelectronics Manufacturing, also under his leadership.
Sammakia's research contributions in the realms of science and engineering are extraordinary. He has conducted and enabled research and collaborations that annually contribute tens of millions of dollars to the region's economic base while providing important assistance to scores of companies.
Sammakia holds 13 U.S. patents and has published more than 120 technical papers in refereed journals and conference proceedings.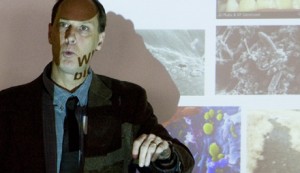 Davies, meanwhile, was named a Rising Star by the Research Foundation. He has found and is patenting what many consider the "Holy Grail" of biofilm research.
When traveling alone in planktonic form, most bacteria are of small consequence and generally easy to manage, even with antibacterial hand soaps. But when they form biofilms, bacteria show resistance to antibiotics, biocides and immune function. Biofilms are a leading cause of inflammation and chronic infection in humans, and an expensive intruder in manufacturing processes, costing billions every year.
Davies has isolated and synthesized a compound that induces biofilm colonies to disperse, leaving individual bacteria up to 1,000 times more susceptible to disinfectants and antibiotics. This small molecule appears to be one of the few known examples anywhere in nature of a communication signal that remains effective across species, family and phyla.
Davies' extraordinary discovery will likely mean a sea change in health care, manufacturing, sanitation and pharmaceutics over the coming years.