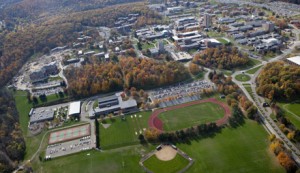 Binghamton University researchers have received 13 grants totaling about $3.7 million through the American Recovery and Reinvestment Act (ARRA) in the program's first several months.
Grants have been awarded to faculty members in fields ranging from chemistry and psychology to mathematics and mechanical engineering.
"This funding provides the opportunity for Binghamton University to continue its cutting-edge research in areas of national significance," said Gerald Sonnenfeld, vice president for research. "The projects these researchers have undertaken could lead to significant advances in technology, including 'smart' sensors, as well as important progress in public health, such as understanding drug-resistant strains of malaria."
ARRA, enacted by the federal government in February, is designed to save and create more than 3.5 million jobs. It authorized more than $16 billion in new research funds to be awarded by federal agencies such as the National Institutes of Health, National Science Foundation and the Department of Energy.
"It's a nice opportunity to get projects funded that might otherwise not have been because of the limits of the federal agencies' budgets," said Lisa Gilroy, director of the Office of Sponsored Programs. "The focus of the ARRA is to develop new technologies and projects that are going to create jobs, and I think the investment we have in research is going to do that. These projects are going to save lives, develop clean energy and generate new businesses. The endpoint is really boosting the economy, and that's what this will do."
ARRA requires unprecedented levels of transparency, oversight and accountability. Gilroy noted that the University will file quarterly reports for each ARRA-funded grant in addition to the typical annual reports filed for every federal grant. The first quarterly reports are due between Oct. 1 and 10.
Applications for ARRA research funds began in March and April, with grants reviewed and awarded on an unusually short schedule. In some cases ARRA funds were awarded to projects that had been proposed earlier, but other proposals have led to entirely new projects, Gilroy said.
"It has generated interest and collaborations," she said. "Even if the researchers don't receive ARRA support, we're building a framework for future projects."
Lisa Savage, professor of psychology at Binghamton, received more than $125,000 from the National Institute of Neurological Disorders and Stroke, part of the National Institutes of Health. Her ARRA-funded grant supplemented existing support from the institute. She's interested in the interactions between specific types of learning and memory problems and particular neurochemical and neuroanatomical abnormalities.
"Its goal was to accelerate science and it has been an excellent way to increase our knowledge base pretty rapidly," Savage said of the ARRA grant program.