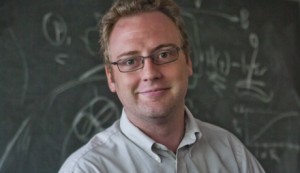 Binghamton's Scott Craver will be honored at the White House this fall as one of 100 recipients of the prestigious Presidential Early Career Award for Scientists and Engineers (PECASE).
The award, which will include a grant of $200,000 a year for five years, is the highest honor the federal government gives to scientists and engineers in the early stages of their independent research careers.
"The award is a culmination of research we have previously done in information security," said Craver, an assistant professor of electrical and computer engineering. "Information security is something of a cat-and-mouse game: You try to detect; I try to evade. The big question is, Who will win?"
Craver said the grant will allow a team of graduate students to continue to pursue a unified theory of counter-deception.
His core research interest is in digital watermarks, which can be used to provide proof of ownership, as copy protection devices or to send covert messages. Watermarks are commonly used in movies, music and images; they could also be used to protect scientific data, software and numerous other types of information.
Craver and his team of students develop algorithms to break watermark systems.
"You need to think like an attacker," he said. "The only way to figure out flaws in a security system is by figuring out how you'd break it."
In the future, Craver said, he'd like to explore ways of applying his watermark-detection techniques to other elements of information security.
PECASE winners are selected on the basis of two criteria: Pursuit of innovative research at the frontiers of science and technology, and a commitment to community service as demonstrated through scientific leadership, public education or community outreach. Craver is the first Binghamton faculty member to receive a PECASE award since the program was established in 1996.
"This honor places Professor Craver in the company of the best scientists and engineers in the nation," President Lois B. DeFleur said. "He is a gifted scientist and innovator and we're very proud of his achievements."
Craver, who holds bachelor's and master's degrees from Northern Illinois University, earned his doctorate in electrical engineering from Princeton University in 2004 and joined the Binghamton faculty that year.
"I am delighted to see that Professor Craver has received such a prestigious award," said Krishnaswami "Hari" Srihari, dean of the Thomas J. Watson School of Engineering and Applied Science. "The quality of teaching and level of research of our faculty is outstanding, and awards like PECASE recognize the excellent and innovative work being done at Binghamton University."