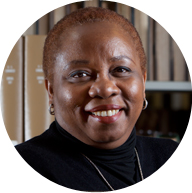 Nkiru Nzegwu says the goal of her award-winning website was simple: Shift stereotypical views of African culture. She says she was dismayed by the images of Africans as poor people searching for food and living in trees that have dominated Western imagination about the continent for more than a century.
"It is mind-boggling with the level of communication we have today that this type of caricature of Africa exists," she says.
Africaresource.com, an educational website, features content that raises awareness of conversations taking place in African communities on topics ranging from feminism to economic development.
"My goal is for this type of information — and access to this information — to become available for everyone," she says. "If you don't understand the generosity of the spirit that Africans have to offer, then you don't understand the society."
Nzegwu, former chair of the Africana Studies Department, joined Binghamton's faculty in 1990. A native of Nigeria, Nzegwu received her bachelor's and master's degrees from the University of Ife before earning a doctorate from the University of Ottawa in Canada.
Africaresource.com has served more than 10 million visitors from more than 90 countries since its first posts in 1999. Today, more than 110,000 people visit it every week. The site received a "Best of the Web" citation from PBS, and has been cited by other media for its expertise. Five online scholarly journals and a building in Endicott, N.Y., called the Africa House, support the effort.
"It began to grow in ways we never envisioned," Nzegwu says.
Nzegwu's latest project focuses on U.N. Dispute Tribunal Judge Nkemdilim Amelia Izuako, whose rulings against those in power have led to attempts on her life. Nzegwu has traveled to Kenya to study Izuako's moral framework, in order to understand why she is willing to risk her life to uphold the law.
"This African woman has done tremendous things but no one knows about her," says Nzegwu, who plans to include Izuako's story in a book on African women achievers.