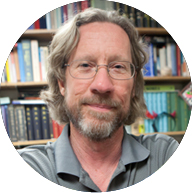 For Michael J. Pettid, who had never been "anywhere significantly abroad," traveling to South Korea 30 years ago was more than an overseas business assignment; it was the beginning of taking his life in an entirely new direction. "I really loved the country," recalls Pettid, a professor in the Department of Asian and Asian American Studies at Binghamton. "It was so much different from anything I had imagined — food, dress, personal interactions."
He quit his job to learn Korean and earn a doctorate. His interests refined from history to literature to culture, focusing on the premodern period. But cultural studies often are limited to the upper class, Pettid says: "I was always interested in the nuts and bolts."
He wanted to look at all strata of society and chose to do so through food. By telling how people ate, he has been able to show more clearly how people lived. Although there have been Korean cookbooks before, his Korean Cuisine: An Illustrated History (Reaktion Books, 2008) is probably the first English work on the history of Korean food. (It does include 20 recipes.)
Pettid disproved widely held beliefs about the "timelessness" of classic dishes. Even kimch'i, Korea's signature pickled cabbage, underwent dramatic transformation when, in the 17th century, peppers first were imported from the Americas.
The book has made Pettid the "go-to" guy for commentary about Korean cuisine, quoted everywhere from The New York Times to Wikipedia. A Korean publication featured a chapter by Pettid about how to globalize Korean cuisine. His recommendation? Serve traditional meals — "lots of items, lots of flavors" — just as they would be found in Korea. No fusion cuisine; no Westernizing.
Pettid's studies have moved from food preparers to food suppliers. He now is researching Korea's agrarian history. He also recently co-edited Women and Confucianism in Choson Korea, which will be published by SUNY Press in November 2011.