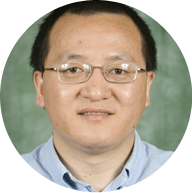 A Binghamton University researcher hopes to shed light on why and how metals suffer corrosion, especially when under various types of stress.
Guangwen Zhou, an assistant professor in the Department of Mechanical Engineering, will use state-of-the-art techniques involving transmission electron microscopy, or TEM, to observe the oxidation process.
Oxidation is the loss of electrons by a molecule, atom or ion. One common example is the rust that results when a metal such as iron comes into contact with moist air.
Preventing rust and related damage is of vital interest to materials engineers as well as industry. An estimated 3 to 5 percent of the United States' gross domestic product is spent on the repair of corrosion-related damage, Zhou said.
"This fundamental research can improve our understanding of metal oxidation on a nanometer scale," he said. "This is increasingly critical as the dimensions of devices continue to shrink to nanoscale."
The study, which will help in the search for substances that can protect the surface of metals, has implications for a number of fields, including thin film processing and fuel cells.
Zhou, whose work is supported by a new three-year, $250,000 National Science Foundation grant as well as a two-year, $50,000 grant from the American Chemical Society, will collaborate with Brookhaven National Laboratory and the University of Pittsburgh for the project.
He will apply stress to samples of copper and use in situ transmission electron microscopy to observe what happens on the nanoscale level when oxygen gas is introduced. Zhou said he has already begun training several graduate students in the unique microscopy techniques, which will allow researchers to visualize the reactions in real time.