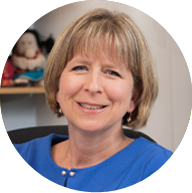 As a nurse and as a researcher, Melissa Sutherland focuses on how best to help her patients.
"I've had some what I call 'Aha!' moments in my career," says Sutherland, a professor of nursing at Binghamton University. "I have an umbrella of research, which focuses on interpersonal violence and sexual health. I've looked at reproductive coercion, pregnancy risk and choices around birth control. I've had other studies that have focused on healthcare providers. Part of that is me thinking as a nurse practitioner, 'What do I do? What is the role of the nurse practitioner?'"
Sutherland's research focuses on interpersonal violence, its impact on young women and factors that perpetuate intimate partner violence. She has studied reproductive coercion — when a partner impairs a woman's ability to access contraceptives or make reproductive decisions — and how it impacts college-age women. Her most recent and ongoing studies center on college health and screening.
A recent study reviewed how and when healthcare professionals documented experiences of violence. Often, the problem remained unaddressed, the experience remained undocumented and the victim was not pointed toward possible resources.
Sutherland, who began her studies at Cornell University, graduated with a bachelor's degree in rural sociology before pursuing a second accelerated bachelor's and then a master's degree in nursing at Binghamton. She earned a doctorate in nursing from the University of Virginia in 2008.
Sutherland is also certified as a community health nurse practitioner. She has practiced in Binghamton and in Boston, Massachusetts, during her tenure at Boston College's Connell School of Nursing.
As a Fulbright Fellow in the spring of 2017, Sutherland taught, worked and mentored faculty in the development of a nurse practitioner program at the Pontificia Universidad Cátolica de Chile in Santiago, Chile.
She is also a 2018 Fellow in the American Academy of Nursing and the director of Binghamton's Kresge Center for Nursing Research, where she continues her research and mentoring. Both the American Nurses Foundation and the National Institutes of Health have funded her research.
"I think nursing is really unique, compared to some other disciplines, where we are also practice-focused," Sutherland says. "It's often a balance to figure out how you're going to integrate practice into other roles that you're focused on. Every day is trying to just figure out what's going to work for today."
Some ongoing studies have concentrated on how to address gaps in healthcare communication to help victims of sexual assault. Much of the work on reproductive coercion, for example, is being examined through different ethnic and racial populations. The next step of Sutherland's work is to develop an intervention method that addresses and reduces barriers to screening.
Gale Spencer, an associate dean, distinguished teaching professor, community health nursing coordinator and the Decker chair in community health nursing, first met Sutherland as a student. She has only grown in her dedication to research and patients in the years since, Spencer says.
"I think her love of research and her high standard of practice and scholarship are what I really admire in her," Spencer says. "I see that strength — she's innovative, she's excited about things, and she gets things done. I have seen that strength in her, intellectually, just continue to grow and grow. Now, I see her as an equal colleague."