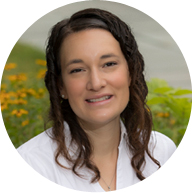 When Christina Balderrama-Durbin came to Binghamton University, her only professional experience in academia was in pursuit of her doctoral degree. Four years later, she directs her own lab while balancing her duties as a professor and as a mother.
And her busy schedule is that much more relevant when her clinical work involves populations at risk for relationship distress.
"I noticed a lot of resilience in people that experienced pretty horrible things in their life," Balderrama-Durbin says. "And I became very interested in wanting to understand how humans are able to manage things that one might think to be completely horrific — traumatic events — and somehow come out of the other side."
An assistant professor of psychology, Balderrama-Durbin earned bachelor's and master's degrees from the University of Colorado and a doctorate from Texas A&M University. Her research focuses on couples exposed to acute stressors, such as veterans or sexual minorities. Partner violence, infidelity and stigma, as well as external trauma such as car accidents or military combat, can all affect how couples function.
Her Couple Adjustment to Stress and Trauma (CAST) lab works to understand ways these problems can be addressed, in prevention or intervention, before they result in violence or prolonged suffering. Her published work includes research on post-traumatic stress disorder and couple therapy, which she continues to work on through her most recent studies.
One project attempting this goal is a five-session, 30-minute intervention targeting traumatic stress symptoms and problematic drinking. It works closely with primary care doctors and is to be administered in parallel with physical health check-ups.
Another study beginning this summer aims to collect data on lesbian, gay and bisexual pairs who face discrimination as a result of their sexual identity, as well as how they navigate potentially hostile environments.
If the process works, she plans to develop a reliable way for people to access the resources they need at the speed and intensity that their unique situations require.
"I don't like to do research for research's sake," Balderrama-Durbin says. "I like to do research for the benefit of the population by which I'm doing the research on. It's such a shame to think that a lot of our research studies sit there in journals and don't actually inform practice. I hope to at least personally facilitate that change by translating it and testing it."
This approach translates to her students, who say that Balderrama-Durbin cares deeply for the populations she studies and the people closest to her. For example, this fall she will participate in the AIDS Ride for Life, a 102-mile charity ride benefiting the Southern Tier AIDS Program.
"She's constantly striving to learn as much as she can about her field and the surrounding fields' relevance to what she studies, and she uses that to inform her research direction," says Seigie Kennedy, one of her graduate students at the CAST lab. "We're working together for my dissertation using eye-tracking, and she's so invested in helping me to be able to use this new paradigm our lab has not used before. She's a very supportive supervisor."
As much as her students appreciate her, her ability as the head of a team comes across when she speaks about them.
"What makes me passionate about this, about research and about this position, is that mentoring others in their research is incredibly rewarding. Without my team, the work would not get done," Balderrama-Durbin says. "If I were doing it by myself, it wouldn't be any fun at all."