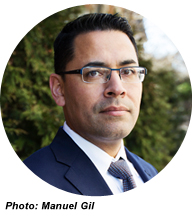 With work that can mean life or death, the way we talk about immigration can make all the difference.
While phrases about humanitarianism and illegality dominate the media, Binghamton University's Óscar Gil-García works within migrant communities to redefine and understand the history of immigration policy and the health of these disadvantaged communities.
His advocacy and fieldwork most recently published focuses on immigrant children who have entered the United States without legal guardians — also known as unaccompanied minors — and how immigration procedures affect their well-being.
Increased enforcement practices allowing families to be separated have allowed a larger number of adults to be deported. Their children, often born in the U.S. and legally citizens, face hostilities, emotional traumas and other trials without their parents.
"It's broadened my understanding that these children are not necessarily those that don't have legal status," Gil-García says. "We need to broaden our lens and understand how immigration practices have resulted in the production of unaccompanied minors in this country who are also U.S. citizens."
Gil-García earned a bachelor's degree in sociology at Vassar College before moving on to complete his master's and doctorate in sociology at the University of California, Santa Barbara in 2010. Following a postdoctoral fellowship at UCLA, he worked as an assistant professor at DePauw University before accepting a position in human development at Binghamton's College of Community and Public Affairs.
His past projects include research into the incorporation of Guatemalan refugees in the Mexican settlement of La Gloria, a petition to the Mexican government to initiate citizenship rights for members of similar settlements, and a photo-documentary that illustrated the strengths and stories of migrant families.
Some of the families Gil-García works with include parents without legal status in Mexico. If these parents have children born in Mexico, the children are barred from obtaining a birth certificate and become stateless. Other children have legal U.S. citizenship, but find difficulty in their entrance to the United States.
In one case, a father and his child, who wished to use his citizenship to study in the United States, approached border patrol for legal entry into the country, but were detained and separated. Due to their fears of deportation, U.S. family members who lacked legal status were unable to help. The child became part of the foster care system.
Gil-García and his wife are now taking fostering classes to care for this child.
"This has become my research. My wife and I can now be considered as a possible placement for this child, but the process has allowed me to learn that the people who are providing this information for prospective foster parents, they don't know about the conditions of people being separated," Gil-García says.
One aim of his work is to increase communication between institutions involved in separations, holding those who are harming immigrants accountable and teaching those who have the opportunity to help through affordable legal counsel and awareness. Another is to make it clear that U.S. immigration policy affects more than people at the southern border — it impacts migrants from all over the world, and U.S. citizens.
Sara Hobler, a Binghamton alumna who double majored in sociology and history, says Gil-García's research can change the dialogue both socially and for students like her.
"Dr. Gil-García really hammered home the point throughout the course that good, well-executed research can be impactful and shape policy," Hobler says. "I always had qualms about entering into academia and leaving the activist life that I've lived up until now, and he made me think 'Maybe I'm not becoming a useless bookworm after all — I might decide to go get a doctorate.'"
The humanitarian language used politically to reduce immigrants and minors while bolstering border enforcement may actually do more harm than good in the fight for immigration rights. Empathetic legal advocacy focused on the individual may help these communities most significantly.
"We're opening a Pandora's box to allow the police state to surveil all forms of movement, citizen or otherwise," Gil-García says. "We're not going to be able to appropriately respond to large-scale social crisis with episodic humanitarian strategies but will actually need to employ strategic approaches to bettering human life and health in the long term."