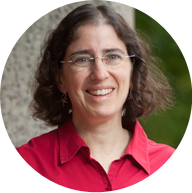 In life, there are times when it is impossible to avoid moral wrongdoing.
Lisa Tessman, an associate professor of philosophy and women's studies at Binghamton University, focuses on those moments. "In many situations, all of one's available options are wrong," Tessman said. "One has no clean options."
Tessman is writing a book, "Moral Failure," and will work on a chapter during the fall 2011 semester as part of a fellowship from Binghamton's Institute for Advanced Studies in the Humanities. Her first book, "Burdened Virtues: Virtue Ethics for Liberatory Struggles," published in 2005, looked at moral questions central to feminism from the perspective of Aristotelian ethics.
Tessman said she looks forward to discussing her work in philosophy with other academics outside of the field during the fellowship. "I'm really happy to be talking with other people in the humanities outside of philosophy," Tessman said. "I want to engage a broader audience."
The chapter Tessman is working on focuses on critiques that claim that some moral theories are "over-demanding," and on responses to these critiques. She argues that both the critiques and the responses are misguided. "When you look at inevitable failure, it is anguishing to face impossible moral requirements," Tessman said. Typically, the response is guilt, which she believes is an inappropriate response because there is no "correct" action possible.
The literature on how "demanding" morality is suggests that most of us should be doing much more to contribute to others' well-being. Tessman argues that this literature assumes that all moral demands — even if they are very stringent — must be possible to satisfy. When one drops this assumption, one can ask a different question about moral life: "How difficult is it to face impossible moral requirements?" This is the question on which she will focus.
For example, in the William Styron novel (and later movie) "Sophie's Choice," the main character has to make an excruciating choice to select one of her two children to be executed in a concentration camp. "Anything she does is an unavoidable wrong on her part," Tessman said. "She is racked with guilt throughout the movie. I don't think guilt is the right feeling, but certainly anguish would fit the situation."
Like this article? Please share!