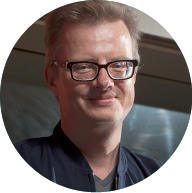 Brian Wall is glad his 8-year-old is finally out of that Disney princess film stage. And he doesn't always look forward to watching the latest blockbuster, either.
It's the downside of the medium — films are made for profit. "If Hollywood is going to invest X millions of dollars, it has to appeal to everybody, which means it doesn't appeal to anybody," said Wall, an assistant professor of cinema and art history at Binghamton University.
That sounds like what his latest research interest — Theodor Adorno — might say. Adorno, about whom Wall is writing a book, was a composer and neo-Marxist social thinker of the Franklin School who turned his attention to popular media.
"The sheer idiocy of a mass product created especially for you assumes the character of a ghastly necessity," Adorno wrote. "Individual needs have been so ruthlessly eliminated from the product that they have to be involved like magic formulae to prevent the customer from becoming aware of the murderous ritual of which he is the victim."
Wall argues with that view in Theodor Adorno and Film Theory: The Fingerprint of Spirit. He looks at four films, The Maltese Falcon, Kiss Me Deadly, Repo Man and The Big Lebowski, to suggest that film, while an industrial product, can be art in its own right.
Heavy stuff for a guy who's as interested in Cary Grant rom-coms as he is in films of the Weimar Republic, which evolved into the film noir that still fascinates him (Kiss Me Deadly is his favorite film, at least today), and influenced modern filmmakers such as Quentin Tarentino and Steven Spielberg.
Wonder about that? Watch 1922's Nosferatu, Wall said. See how it uses light and shadow to tell the story. See how it plays with the idea of the living and the dead. See how it comments on Jews and anti-Semitism in Germany, given the vampire turns into a pile of gold and physically resembles Germany's ethnic Jews.
Watch The Maltese Falcon or Kiss Me Deadly. Same techniques. You'll find them in Raiders of the Lost Ark and throughout the Lord of the Rings trilogy.
What were the filmmakers trying to say? And in what social and political context were they saying it? That's as much fun as the roller coaster modern film can be.
Now consider the need for profit and the context. A typical multiplex film costs $100 million to make and distribute. Social commentary is ditched in favor of commercial appeal, which is why Wall scrambles for a pen when told of The Gamers: Dorkness Rising, a sub-$100,000 film that used its Internet fan base to fund both production and distribution, skipping the traditional route.
That's what Wall took with him when he watched one recent blockbuster: The Dark Knight Rises. Director Christopher Nolan made the crew watch The Battle of Algiers, a 1966 film commissioned by the Algierian government after its revolt from France. It portrays both sides of the conflict as sympathetic characters in an exercise, Wall said, of "political schizophrenia."
Maybe it wasn't so bad, after all.