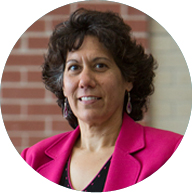 A Binghamton University researcher who hopes to improve the quality of public administration around the world will spend time in Latin America as a Fulbright Scholar.
Nadia Rubaii, an associate professor of public administration, received a Fulbright grant to conduct research beginning in January at Pontificia Universidad Javeriana in Bogotá, Colombia. She will study how accreditation of public administration schools can improve graduate education and, ultimately, build more effective governments.
By conducting her research in Latin America, Rubaii hopes to examine to what extent U.S. standards can be used in other countries, based on whether they make sense culturally, politically and economically.
"What it's forcing us to do is to learn from each other," she said, "and to recognize that our way of doing things, which might be good, isn't necessarily the only way or the best way."
Rubaii believes that better public administration education will lead to more effective government institutions and ultimately increase the quality of life for people. "The real end goal," she said, "is for governments all around the world to have sufficient capacities to engage in sustainable economic development, to promote improved health, education and security and to reduce crime, inequality, discrimination and poverty among their populations."
An intermediate step is to improve the professionalization of government, she noted. She hopes that societies all around the world will value people who have a formal education in public administration as having something to contribute to government — not necessarily as elected officials, but as the people who do the day-to-day work of government.
Schools can seek public administration accreditation in the United States, and now internationally, through the Network of Schools of Public Policy, Affairs and Administration (NASPAA). Rubaii oversaw NASPAA as its president and chaired its accreditation board for two years.
"Accreditation offers a kind of stamp of assessment and approval of quality," Rubaii said. "If you as a student are looking to choose among programs, you know that the ones that are accredited have already been reviewed by somebody."
Accrediting bodies evaluate a program's curriculum quality, faculty credentials, student experience, placement record, admission standards and what knowledge and skills students have after graduating. Rubaii's research focuses on how those standards differ internationally.
"Accreditation now from this organization is available to programs outside the United States, but the standards for accreditation are based on how we think about quality in the U.S.," Rubaii said. "Those are not necessarily universal values or measures of quality."
Sebastian Lippez De Castro, a graduate of Binghamton's public administration graduate program and member of the faculty at Pontificia Universidad Javeriana, worked with Rubaii in Binghamton researching the possibility of applying NASPAA standards to graduate public service programs in Latin America.
"She was always genuinely interested in listening, on both our experiences with Colombia's higher education system and what we were able to learn about other Latin American countries' systems," De Castro said. "Her leadership style includes her cultural sensitivity."
De Castro said he and other faculty members at Pontificia Universidad Javeriana look forward to working with Rubaii next year. "We not only expect to learn from her knowledge and experience regarding specific public administration topics, but also expect her research will help or graduate public service programs improve their quality," De Castro said.
Other research of Rubaii's, centered on the role of local governments in helping immigrants assimilate in the United States, helped shape a philosophy on diversity that drives her research. "It increasingly has been expanding to a focus on international diversity and cultural diversity, and so it's an appreciation for diversity that connects the two," she said. "It also reflects a genuine commitment to a notion of being part of a global community."