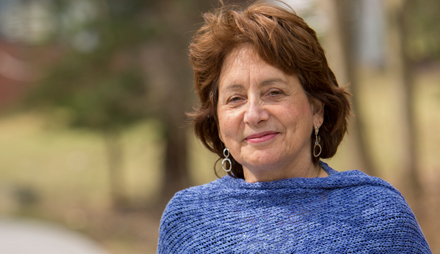 Liz Rosenberg's latest novel, The Laws of Gravity, pits two cousins against each other. One has cancer; the other holds a possible cure, in the form of umbilical cord blood he has banked for his children.
Rosenberg, a professor of English at Binghamton University, says she found inspiration for the book in a real-life drama she heard about more than 30 years ago. A Pittsburgh man sued his cousin for a bone marrow transplant after the would-be donor changed his mind about the procedure. "It was just an instant novel in my head," Rosenberg recalls. "What would it be like to be the surviving cousin? What would that do to a family?"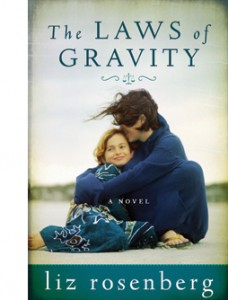 Rosenberg wrote to the justice who handled the case. They exchanged letters — this was before the days of e-mail, she notes — and he shared his views on the lawsuit. She even drove to Pittsburgh to discuss the case with him. "He knew that he could not force this person to do good," Rosenberg says. "The powerful are sometimes powerless. And the seemingly powerless are sometimes powerful."
Life and other projects got in the way, and Rosenberg shelved plans to write the book. But after her first novel, Home Repair, was published in 2009, Rosenberg's thoughts returned to the project. "I was at a book club meeting in Binghamton for Home Repair when a book club member suggested to me, 'What if it were cord blood?' And I thought, 'Wow, that's really interesting.'"
That was just one of the crucial changes Rosenberg made for the novel. In the Pittsburgh case, two male cousins went to court. Her story would have one male cousin and one female cousin. And she decided it would take place in the present day on Long Island, where she spent the first 18 years of her life. "It felt remarkable to me to be able to go home in my fiction," she says. "This is my hymn to Long Island."
As Rosenberg describes the importance of place to her story, she refers to Eudora Welty's views on the subject. It's one of at least half a dozen references she makes to well-known authors in an hour-long discussion of her writing, moving effortlessly from Welty to J.K. Rowling and back to F. Scott Fitzgerald.
The setting, Rosenberg explains, allows her to explore the intense family connections of suburbia, differences in wealth and attitude and even the challenges of driving on Long Island. Indeed, traffic serves as a unifying metaphor in The Laws of Gravity. "There's always something in your daily life that is an obstacle," she says. "In Binghamton, it's the weather. On Long Island, it's traffic. You have to plan around the traffic."
Rosenberg finds remarkable texture and vitality on Long Island, and she dismisses the idea that the suburbs are nothing more than a bland string of strip malls, diners and gas stations. Her novel fairly bursts with lively secondary characters: an eccentric aunt, a romantic rabbi and a scheming judge, to name just a few.
"The suburbs get short shrift," she says. "I grew up in suburbia. It's full of passion and it's full of intrigue and suffering and beauty. It's not as easy as it looks. People are on the verge of wealth or they're on the verge of bankruptcy. They're rushing to get to the train on time. There's a certain kind of energy. Maybe it's a little dog-eat-dog, but there's also something that emerges from that energy. There are those surprising moments where the loyalties align in ways that defy gravity. Moments of beauty, of clarity, even of redemption, come out of feeling pressed all the time."
Meet the Author
Binghamton faculty member Liz Rosenberg will launch her new novel, The Laws of Gravity, with a reading and signing at 3 p.m. Sunday, May 5, at RiverRead Books, 5 Court St., Binghamton. The book won't be available from Amazon, which is publishing it, until May 7.