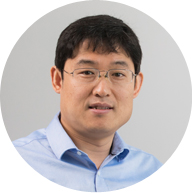 Surgical removal of brain tumors may become easier and more precise, thanks to Binghamton University research that recently received funding from the National Institutes of Health.
Fake "Frank" Lu, an assistant professor of biomedical engineering, uses stimulated Raman scattering (SRS), a molecule identification technique, to develop a multicolor imaging technology for brain cancer pathology during surgery.
A three-year, $750,000 R00 grant from the National Institute of Biomedical Imaging and Bioengineering (NIBIB) supports his research at Binghamton.
There are two steps to get rid of a brain tumor: removing the literal mass and then removing the lingering cancer cells at the edges. Removing the lingering cells can be tough, requiring evaluation to avoid destroying functioning brain structures.
Cancer cells are denser than normal cells, which helps them to be identified. Modern procedures involve a pathologist standing by for intraoperative consultation, using neuronavigation systems (such as an MRI scan) or fluorescence imaging to detect lingering cancer cells. Each of these techniques has drawbacks:
With intraoperative staining-based histopathology, tissue samples are taken and evaluated in a nearby laboratory. Although accurate, this is ultimately a slow process, only allowing three samples to be evaluated during surgery.
Neuronavigation systems can also be flawed as a result of the brain moving during the surgery, which is called "brain shift."
Fluorescence imaging uses fluorescent dyes to label and locate the cancer cells. Unfortunately, this is a messy process and isn't accurate at distinguishing the margins of the tumor.
Lu's technology is label-free, rapid and detailed. He expects that in the future, SRS can be used to evaluate 20-30 tissue samples during surgery to help delineate the tumor margin.
SRS detects "molecular fingerprints" by exciting the chemical bonds in molecules and reading the frequencies emitted by the vibrational states of the bond. This information is then used to assign different colors to the molecules, allowing for a detailed image.
Lu has also improved SRS so that it can create images of lipids, fatty acids that he says are important markers for the presence of cancer cells. Axons, the long, thread-like sections of nerve cells, are wrapped in lipid layers called myelin sheath. In areas affected by cancer, they break down, leaving lipid droplets that can be easily detected by Lu's technology.
Lu envisions the technology being incorporated into a machine for operating rooms, and he is debating two options: a handheld probe to create images of the internal cavity, or a device that creates images of tissue samples from multiple locations. "We are providing a tool that is complementary to the current neuronavigation system," he says.
The next step is to collect more data to solidify the efficiency of the technology. Lu is collaborating with SUNY Upstate Medical University and Brigham and Women's Hospital to get larger data sets.
Eventually, Lu would like to implement machine learning into the technology for faster and more efficient diagnosis. He also hopes to apply this technology to other types of cancer diagnosis and even other neurological diseases, including Alzheimer's, and do more work in live cell imaging.
Before joining Binghamton's faculty in 2017, Lu completed a post-doctoral fellowship at Brigham and Women's Hospital and Harvard Medical School, where he collaborated with cancer pathologists, surgeons and researchers to transform this technology. He also secured a prestigious NIH K99 Pathway to Independence Award, which is designed to facilitate researchers' transitions from post-doctoral work to independent tenure-track jobs.
"Everyone contributes to the technical development of this technology, [but] Frank's definitely the driving force behind the work," says Sandro Santagata, a neuropathologist and assistant professor at Harvard Medical School and Lu's post-doc collaborator. "He's a team player, which is very important in scientific research."
Lu, who was born in Shandong, China, received an undergraduate degree in optoelectronics from Zhejiang University in China and a graduate degree in bioengineering from the National University of Singapore.
He eventually realized he wanted to move toward healthcare applications of photonics rather than pure engineering and technology, which led him to Raman bioimaging. "For me, pure engineering work was not that exciting," Lu says. "Later in my career I started thinking about practical applications of biophotonics in life science."
As a kid, Lu was always tinkering, even attempting to develop a FM radio and an electric generator. Ever since, he has been on course to create innovations that would benefit society.
"To be successful in science requires a pretty remarkable drive," Santagata says, "and he's got it."