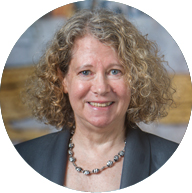 Marilynn Desmond brings a feminist focus to the literature and history of the High Middle Ages. Now the Binghamton University literary scholar will study a medieval manuscript at the Vatican library with support from a prestigious Rome Prize.
"Being able to work at the Vatican for six months is a privilege," says Desmond, a distinguished professor of English and comparative literature. "It'll be exciting to be able to spend as much time as I want to work with the manuscript and get to know it."
The fellowship from the American Academy in Rome, funded by the National Endowment for the Humanities, is one of about 30 awarded annually to individuals who represent the highest standard of excellence in the arts and humanities. Desmond is one of only two award recipients in medieval studies this year.
"The research possibilities are tremendous," says Desmond, noting she'll have access to a number of well-regarded libraries in Rome. "And it is a very special intellectual community, with opportunities to establish connections with people well outside your field."
Desmond, who joined Binghamton's faculty in 1985 after earning her doctorate from the University of California, Berkeley, serves as director of the University's Center for Medieval and Renaissance Studies. She's the author of several books on the reception of classical Latin texts in medieval France and England.
Her latest project is a book to be titled The Fall of Troy and the Origins of Europe: Homer and the Medieval West. It addresses the way the Trojan War was depicted and understood in medieval European vernacular cultures. "The Greek text of the Homeric epics was unavailable to the medieval Latin West," Desmond notes. "The narrative of the Fall of Troy was transmitted only through Latin texts."
Desmond believes a French manuscript known as the Histoire ancienne jusqu'à César (Ancient History Until Cesar) served as the critical connection in the transmission of the Troy narrative from the ancient world to western cultures that lacked Greek literacy. She has studied this manuscript at the British Library for the past decade. Most of the 400-page manuscript does not exist in a modern edition.
During her upcoming research trip to Rome, Desmond will have access to a manuscript of the Roman de Troie produced in Italy around 1300. This artifact, now housed at the Vatican, was among the source materials for the Histoire ancienne. Since this extensively illustrated manuscript has not been digitized, its visual aspects can only be studied in person.
"The Troy material is everywhere in Western Europe," she says. "It's very well represented in Latin materials. And yet, because it's not based on Homer, the importance of this tradition has generally been overlooked by scholars."