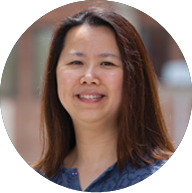 Sarah Lam's research in discrete event systems simulation involves modeling the flow of products and product components through factories and other areas of an enterprise system. She has partnered with high-tech manufacturers including IBM and Endicott Interconnect Technologies as well as with healthcare-oriented firms such as Innovation Associates.
When Lam and her students build a model of a production line or an entire system, they're able to see where there are bottlenecks and idle resources and even where there are activities that aren't adding value. Such simulations often lead to a company relocating materials or reallocating operators to reduce travel time or material-handling time as well as to new designs for product flow and facility layout. "Activities that don't add value should be eliminated," she says. "Inventory should be minimized. We want things to move smoothly and quickly through the system."
This kind of simulation is especially good for exploring what-if scenarios, says Lam, an associate professor of systems science and industrial engineering at Binghamton. "Building an imitation of how a system and its components work so you can actually see things moving adds depth to the planning stage," she notes. "That lets you test out an idea and see if you get the benefits you expected. You see what isn't going to work and how deadlines will be affected. Then you can make changes in the simulation world to see if you can get better results."
Lam's simulations allow her to compress time, too. Once a model has been built, using time studies and historical data as well as the relevant physical details, she can simulate how a system will work over the course of a year in just minutes. "Simulation results not only can assist with planning but also often can tell us something new," she says.  "We can see results faster."
Visuals, even a simple 2D model, can make a huge difference and are increasingly common in the software Lam and her students use. In fact, newer software packages often include 3D modeling. Such simulations help people visualize the entire system and focus on what's moving, whether it's patients moving through a hospital's emergency room or a printed circuit board moving through an electronics manufacturing line.  "Companies like to see animation,"  Lam says.  "They say,  'Show me how it runs.' Animation is a big deal for communicating."
She and her students can create simulations in as little as a couple of weeks or, for more complex models, in as much as several months. A typical project takes two to nine months.
"It allows companies to see what they're not doing so well and where they can improve," she says. "The bottom line is important. We provide the tools to help them get there."
Lam's primary motivation is in seeing a system work more smoothly. "As industrial engineers, we don't make things, but we try to improve on how things are done," she says. "Seeing an improvement is gratifying. We have seen significant improvement in return on investment. That's very important. That's one of the ways we can maintain the research relationship year after year."