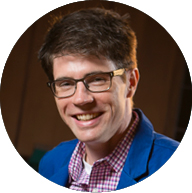 Pianist John Kirkpatrick "tirelessly promoted and championed" the music of American composers, wrote Tom C. Owens, editor of Selected Correspondence of Charles Ives. In a way, Binghamton musicologist Drew Massey has done the same for Kirkpatrick, the longtime executive editor of the Charles Ives Society.
Massey wrote his dissertation on Kirkpatrick while pursuing a doctorate in historical musicology at Harvard University. He expanded the work into John Kirkpatrick, American Music, and the Printed Page, published in 2013 by University of Rochester Press. The book combines biography with analysis of Kirkpatrick's historical approach to editing. He demonstrates how Kirkpatrick, who died in 1991, became a collaborator as well as an editor, proposing revisions that altered composers' original intentions.
Ryan Raul Bañagale, an assistant music professor at Colorado College, says his own writing has been inspired by Massey's approach to scholarship, "particularly his demonstration that the editors of music have as much to do with the writing of history as do the composers themselves."
Although his book is primarily a scholarly work, Massey says he hopes to reach a broader audience. "Kirkpatrick played a small but important role in the history of American music," he says, "and one of the goals of my project has been to introduce him in such a way so that some aspects of my research would be appealing to non-musicologists."
Massey, whose bachelor's degree is in piano performance and mathematics, said he turned to musicology because he "enjoyed the kind of puzzles that lay at the center of our experience of music." He came to Binghamton University in 2012, attracted by the "energetic" music department. "Now that I'm here," he says, "I am enjoying working alongside faculty throughout the humanities who are passionate about their diverse interests."
During the 2013-14 academic year, Massey is teaching and working on two publications: a definitive list of Virgil Thomson's compositions at the request of The Virgil Thomson Foundation and a book, due out in 2017 from Oxford University Press, about British composer, conductor and pianist Thomas Adès, one of the most famous living composers working today.
"My book will be the first full-length study of Adès' music as a whole in English," Massey says. "I think an in-depth look at his work can give some interesting answers about the different directions that contemporary composition is headed."