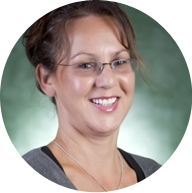 What is the role that the cortex — the portion of the brain involved in "executive function" — plays in amnesia? How does it change? How does it adapt after damage to other regions of the brain? Those are some of the questions Lisa Savage, professor of psychology at Binghamton University, hopes to answer with support from a new research grant.
Her work could lead to new approaches to treating Alzheimer's disease, Wernicke-Korsakoff's disease and alcohol-induced dementia. The new funding — $126,226 from the National Institute of Neurological Disorders and Stroke provided through the American Recovery and Reinvestment Act — supplements a grant Savage received three years ago from the National Institutes of Health.
The goal of the initial project was to study how the neurotransmitter acetylcholine changes in brain regions that important for learning and memory. Savage found that acetylcholine is blunted in some regions — but increased in other regions — after amnesia. But her research has revealed that stimulating one critical brain region, the hippocampus, can lead to complete or partial recovery of behavioral function. Savage and her colleagues have found the cortex is even more impaired than the hippocampus by diseases that affect learning and memory.
Now she wants to find out whether direct delivery of therapeutic drugs to the cortex could further reduce or eliminate behavioral impairment. "Right now when we take drugs, they tend to be broad-spectrum drugs that affect many parts of the human body," Savage said. "If we can target drugs that can go to specific regions of the brain, they can be more effective and produce fewer side effects."