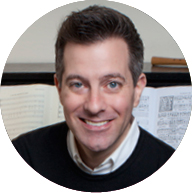 Historians of late 16th-century Italian music generally focus on professional singers and music written for them to perform in front of courtly audiences. Paul Schleuse, an assistant professor of musicology at Binghamton University, has turned his attention to composers such as Orazio Vecchi, an Italian whose music books were also popular with recreational singers.
Schleuse, who received a fellowship from Binghamton's Institute for Advanced Studies in the Humanities, spent the summer of 2010 in Italy and London, where he researched archival and musical sources for Vecchi.
Schleuse's critical edition of Vecchi's "Selva di varia ricreatione," a large collection of many kinds of pieces, will be published later this year by A-R Editions in the series Recent Researches in the Music of the Renaissance. It will be the first time the music of Vecchi's "Forest of Varied Recreations" is available to performers and scholars in a modern edition (the original was published in 1590).
He is writing a second book with a working title of "The Poetics of Recreation: The Music Books of Orazio Vecchi," which he plans to complete in 2012. The monograph will combine a survey of Vecchi's career and music with a study of his unusual conception of the music-book.
"Much of Vecchi's music has been neglected or misunderstood," Schleuse said. "Today we are accustomed to thinking of musical performers and audiences as separate individuals, but when a group of singers themselves are the audience, it changes the way they interact with the musical and poetic texts, and calls for a different kind of analysis."
Schleuse, who is also a composer and performer, is also interested in bringing early music to today's audiences.  Last year he gave a talk as part of the Music Department's Friedheim Lecture-Recital Series on Il lamento d'Arianna (Ariadne's Lament), the only surviving music from 17th-century composer Claudio Monteverdi's second opera. Schleuse's lecture was illustrated by examples played by members of the Binghamton Baroque Ensemble (a group he co-directs with Professor Andrew Walkling), and concluded with a complete performance of the work.