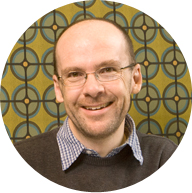 Michael Sharp, a Binghamton University scholar of Medieval and Renaissance literature, may now be better known by his online moniker, Rex Parker. Some 20,000 readers a day flock to his blog, Rex Parker Does The New York Times Crossword, in search of answers about the puzzle, his idiosyncratic take on its clues, quality and level of difficulty and, perhaps most important, an opportunity to interact with other crossword fanatics.
"I feel like I'm maintaining a community, a place where people can come and talk about the puzzle," Sharp says.
His readers include at least a few celebrities, notably actress Dana Delany, who recently mentioned the blog on Jimmy Kimmel Live; Pulitzer Prize-winning Washington Post columnist Gene Weingarten and food writer Ruth Reichl. Will Shortz, crossword puzzle editor of The New York Times, reads the blog and occasionally leaves a comment.
The blog has been joined by a Facebook page and Twitter account, where Sharp riffs on matters only tangentially related to crosswords and his other passion, pulp fiction.
"I prefer the Facebook page as a place to hang out and chat," he says. "People have conversations and they love each other, and I could practically not exist. There's opportunity for back and forth, maybe because I only have about 1,400 Facebook fans. Compared to 20,000 readers a day, it's a smaller group. I feel like I can actually talk to people in a way I can't on the blog. … At this point, it's a more intimate space."
Scroll through the comments and you'll find readers sharing their favorite words, news of places and people with unusual names and discussions of pop-culture references to crosswords. Of course, there are plenty of threads full of outrage over misspellings or poor grammar.
Sharp works on the blog, which he began five years ago, for an hour or two each day. It might take some people that long just to complete the puzzle, but he can do even the toughest ones in 10 or 15 minutes. (A typical Monday puzzle, the easiest of the week, might be a three-minute challenge for him.) While Sharp says speed isn't his primary goal, he placed 31st overall and 10th in his division at the American Crossword Puzzle Tournament in 2011. He received a small trophy for being second-fastest in New York state, though he's quick to note that the category excluded New York City.
"I usually solve it online on The New York Times website proper, which means my time comes up against everyone else's," Sharp says. "It used to stress me out because I was being timed and ranked against other solvers. That doesn't stress me out anymore."
In 2010, Sharp took on the challenge of constructing original puzzles for the first time. Since then, he's had a few in The New York Times, one in The Wall Street Journal and a couple in the Los Angeles Times.
"Sometimes I get an idea and it's done in three or four hours," Sharp says. "Others take longer to percolate. They pay very little, but it is satisfying to see them and to have people doing them. It's good validation. If you get it into The New York Times, a lot of people will do it. That kind of audience is nice to have if you're going to put the time in."
The notion of readership — for the blog, for his puzzles, for his scholarly work — is one Sharp wrestles with regularly. When he joined Binghamton's faculty in 1999, a more conventional academic career seemed to lie ahead. Life as Rex Parker, which includes a second blog, Pop Sensation, devoted to Sharp's collection of vintage paperbacks, has taken him off that course.
"More people read me in a single day than ever read everything I ever wrote over all time," he says. "If you take all the articles I wrote, add my dissertation and anything I had written on paper up to the time I started my blog, today in one day more people read what I have written. That's not to say that what I write today is more substantive, but having that kind of audience — and it didn't fall in my lap, it was built over time — it's not nothing."
Sharp still teaches Medieval, Renaissance and Arthurian literature, and he does see ways in which the blogs inform that work. "I hope in some way that my approach to teaching is what I do in my own writing," he says. "You need to be serious about your writing and dot your I's and cross your T's. On the other hand, you need to not be bound by conventions and what's safe, what's established. There are a lot of reasons, not least of which is that you will be bored. And if you are bored, your readers are going to be bored. You need to take some risks. I try to encourage people to be both serious about their work and daring in terms of how they express it."
Sharp's pop-culture expertise has begun to find an academic forum. He gave a keynote address titled "Lurid Liberation: Sex and Social Change in American Paperback Cover Art, 1940-1970" as part of a conference for the 75th anniversary of Hofstra University's library. The hour-long talk was, he says, designed to be both entertaining and instructive.
"It was utterly unexpected because I've never done anything academic related to it except for my paperback blog," Sharp says. "On the one hand, that's not an academic endeavor; on the other hand, it's completely an academic endeavor. It's all about collecting and sorting and learning about the history of the art. I talk about it in irreverent ways, but I'm also lovingly amassing this collection of an important time in American commercial art that's not well documented anywhere else. So in some ways my interests and my whole approach are academic. I'm showcasing something that would be invisible otherwise, and that's really what a lot of scholars do. That loving attention to detail and that respect for books as artifacts, all that's going into my Pop Sensation blog."
For now, Sharp says he enjoys keeping up with the blogs and teaching literature. The blogs have allowed him to make new contacts, find a voice that's different from his scholarly writing and experiment with developing an audience. Eventually, though, he expects to take a step back from the blogs to give himself a chance to consider what else he might like to write. He has some ideas for a book, but isn't drawn to writing about the history of puzzles or anything so obvious. Sharp says he believes the blog has given him the freedom to do something more creative. "You never could have convinced anyone that there was going to be an audience for a daily blog about The New York Times Crossword," he says. "It would not have seemed like a good idea. It grew because I kept at it and I care about it."
Sharp says he would like to see greater acceptance of new media and popular forms of writing in the academy. The idea of the monograph as the gold standard for tenure feels dated, he says, and the humanities would benefit if more scholars interacted with the public.
"There's something to be said for a professor reaching an audience that isn't scholarly," he says. "That's a valuable role for the university. I couldn't write what I write if I didn't have the education I have, even though I'm not writing scholarly analysis of Medieval poetry anymore. Everything that went into doing that informs what I do now."
About Michael Sharp
Alter ego: Rex Parker
Credentials: Bachelor's degree from Pomona College; doctorate from the University of Michigan; 31st place at the 2011 American Crossword Puzzle Tournament; self-proclaimed King of CrossWorld
Loves: Detroit sports teams, The Simpsons, the letter K, live-blogging Republican debates
Hates: Crossword puzzles with bad "short fill"